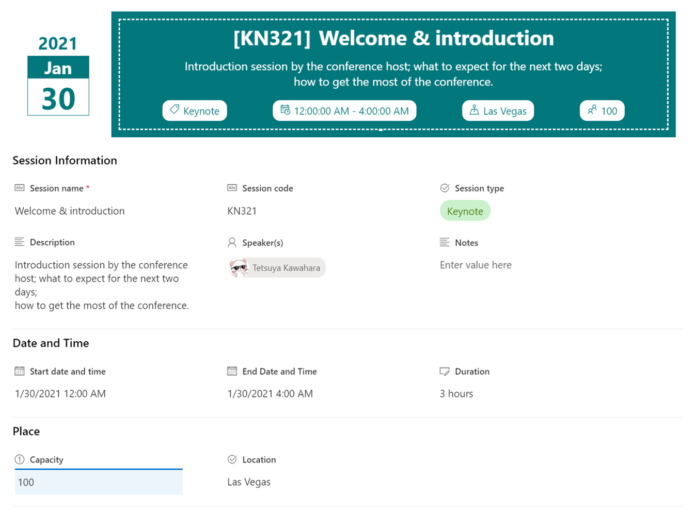 This is a summary of the GitHub repository to format Microsoft List Forms in SharePoint Online or to format Microsoft List in Microsoft Teams.
This is the list as per 13/05/2022. I'll update it regularly.
Getting started with : wrapped-body
Workflow Progress Header
This sample shows a checkmark for each date field that has a value to help convey when milestones have been hit.
Wave header and footer
This sample demonstrates how to display waves in the header and footer of a form. Waves are displayed using SVG.
Status Header and Footer
This sample shows a customized header and footer for a form with a Status column with possible values 'Thinking about it', 'Working on it', 'Done', and 'Nevermind'.
This format is intended for the Header Format and Footer Format of the form body in the Configure Layout panel. Depending on the value of the Status column, a corresponding icon and colour scheme are used.
Ribbon Header
This sample demonstrates displaying a ribbon in the header. The values of the Title column are displayed in the ribbon.
Event Itinerary Header
This sample shows a customized header for the item form used in the "Event itinerary" list template.
This format is intended for the Header Format of the form body in the Configure Layout panel. The body layout shown in the screenshot can be obtained by configuring sections within the Body panel (not included in this format).
Dashed Line Header
This sample displays the Title and Description values in the heading and decorates them with dashed lines. If the Description value is empty, it will be hidden.

dashed-line-header-text-left.json
Blank header
Find more great blogs here.
About the Author:
Jeff ANGAMA is a Microsoft 365 Solution Architect. He has 11 years experience in France / Singapore / Monaco in SharePoint On Premise & Microsoft 365.
MVP since 2020 on Office Apps & Services, he shares with passion around M365 on his blog, social media and conferences. He has been developer, administrator, technical lead, trainer, pre-sales engineer. Certified SCRUM Master, Trainer.
He has in mind the GDPR / security / adoption aspects when crafting solution.
He is leading the Power Platform Center of excellence for GSF Citizen Dev's (4000 people)
Reference:
Angama, J. (2022). SharePoint List and Microsoft List Form Formatting. Available at: https://www.collabmania.com/2022/05/13/sharepoint-list-and-microsoft-list-form-formatting/ [Accessed: 8th August 2022].