It's now roughly one year since Microsoft launched the the Power Platform Business. It's been extremely interesting in the past 12 months to watch how this new platform strategy starts to play out in the world outside Redmond, as the pieces of this grand puzzle begin to become visible here and there. Having worked in the MS ecosystem on customer & partner side for 14 years now and coming from the Dynamics CRM side originally, this is the biggest single shift I have witnessed in their product strategy to date.
Putting all the puzzle pieces together is surely not easy for anyone who isn't devoting a sizable share of their time on consuming information from the various events, announcements, blog posts and documentation released by Microsoft. The thing that really makes it tricky is that this Power Platform thing isn't confined inside a single bucket. It's not Dynamics 365, it's not Office 365, it's not Azure. It's all of them and yet none of them. Every MS partner and every customer decision maker will increasingly run into the product messaging, but they'll hear it presented in a different way – and most likely interpret it uniquely based on what their background is.
The only reason Microsoft would be investing so heavily in building and promoting the Power Platform is that they see a massive new business opportunity in it. As Steven Guggenheimer wrote in his recent blog post:
"The Business Applications Total Addressable Market (TAM) is predicted to be at $125B by 2022, and 57 percent of this will be driven by ISVs. Dynamics 365 and the Power Platform are an important area of investment for the company, and represent a significant growth opportunity for partners in this market."

Accelerating opportunities for ISVs with new programs and technology – Steven Guggenheimer
Big numbers, but that's what they always are in these grandiose statements about global market potential. What I need to understand when talking with customers, partners and internal stakeholders at our company about the strategic direction of Power Platform is from where specifically might this growth come from? To help these discussions I ended up drawing the following diagram about the four different dimensions where I see this Microsoft application platform strategy creating new business: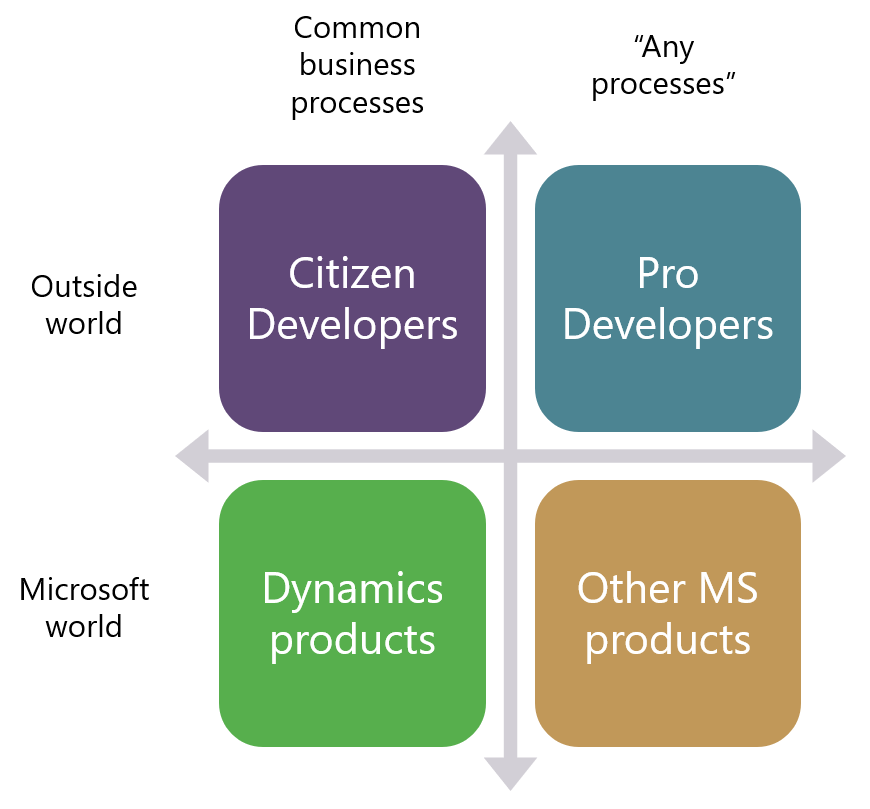 The way I see it, the growth will happen both A) inside Microsoft's product offering and B) the outside world of customers and partners, within 1) the traditional business process management scenarios as well as 2) those processes that you wouldn't have tried solving with any CRM style application/platform in the past. Let's dive into each of these areas and I'll explain what the impact of Power Platform might be in generating new business to run on top of this new Microsoft aPaaS (Application Platform as a Service) foundation.
1. Dynamics products
Let's start from the most familiar ground. The place where the most concrete changes resulting from the Power Platform strategy have been felt during the past year must be Dynamics 365, and the Customer Engagement apps specifically. The platform formerly known as XRM is in the process of being replaced by what is sometimes referred to as "PowerApps platform", although that may not be any official term that would stick. Regardless of the marketing lingo, the customizers and developers of Dynamics 365 CE solutions are right now facing a lot of pressure to adopt brand new concepts and tools that will replace those ~10 year old building blocks that XRM solutions were made out of. Compared to the earlier transition from on-premises to Online products, that may well have been a much easier shift to adjust to than this new Power Platform whirlwind that's moving everything around on its path, from licensing to UI to SDK.
From the perspective of the internal Microsoft world, the Dynamics product teams have previously been somewhat captive of the CRM legacy that came along with the XRM platform. As a commercial software product, it wasn't originally built to be a pure platform, rather the design choices and customer requirements drove it more towards being an extendable CRM application first and platform second. In the process of migrating Dynamics 365 CE Online to run on Azure services, the platform and the applications were separated from one another. To balance things off, there's also been a huge unification process initiated with the client side technologies, where the target is to remove the barriers between Model-driven and Canvas apps, to Run One UI. The platform tools like PowerApps Component Framework (PCF) now give also the internal product teams a far more agile path forward in deciding what kind of features and experiences the specific apps like Sales or Customer Service should contain. What this means is that the stagnation period where everyone had to just wait for the new platform capabilities to become available may be coming to an end and in the next release waves we can expect a significant growth in new app functionality being shipped to Dynamics 365 customers. In other words, a growth in application depth.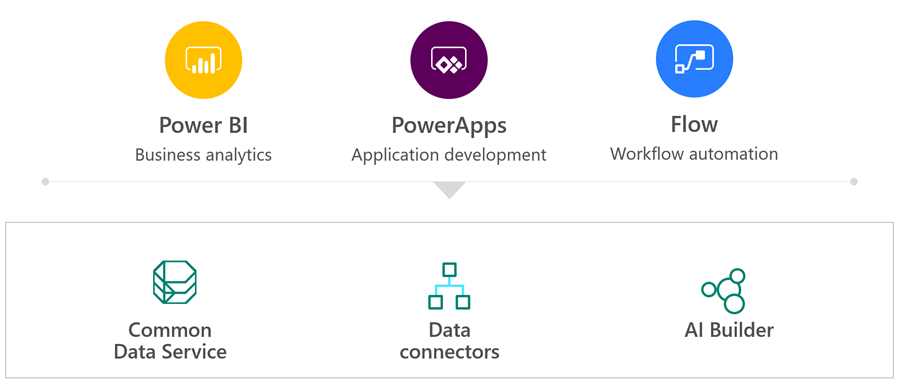 Alongside this internal platform development, another huge benefit that Dynamics 365 as a business has gotten from the new direction at Microsoft is the closer connection with the Azure teams. A few years ago there was still the MBS silo to keep up the walls between CRM & ERP business and the mainstream MS product business, which explained a lot why we didn't see so much of the Azure innovation trickling down to the business applications built by the same corporation. Now the tables have truly turned as we've witnessed all of the new applications like Dynamics 365 for Marketing betting heavily on the very latest Azure services. AI is getting infused into every product at Microsoft, but it also gives birth to brand new products like Sales Insights or Virtual Agent for Customer Service. To link all this with the Power Platform story, it's important to understand that this platform side is what eventually allows customers and partners to customize these new apps and services to meet their real life business requirements. The growth potential in this Dynamics products segment is being amplified by the fact that PowerApps, Flow, Power BI and CDS give it the extension points needed for going beyond packaged SaaS apps. The growth in Dynamics 365 app portfolio width is therefore driven by the Power Platform connectivity with Azure.
2. Other Microsoft products
While the merger of Dynamics 365 CE and PowerApps platforms is a great boost for the Dynamics products, that's not the only area within Microsoft that is touched by the Power Platform strategy. Office 365 has of course been the biggest product display window for PowerApps and Flow, due to how services like SharePoint and OneDrive have been deeply integrated with these tools. There is a Microsoft 365 Business Applications partner program that interestingly enough doesn't seem to align with the "actual" Microsoft Business Applications group's activities at this moment, as it sits within a different organizational box, the Modern Workplace solution area. When you think about the origins of how the previous generation apps for information workers were often built on top of the ubiquitous SharePoint Server, this arrangement does make sense, but I wouldn't expect these separate boxes to remain forever in place. After all, what's been happening to PowerApps recently in terms of commercial success is "like SharePoint all over again" (according to Charles Lamanna), so all roads here lead to the Power Platform being the growth engine for Office 365 and Microsoft 365 to reach further into the customers' information management needs.
The second and more intriguing avenue for growth is the re-architecting of prior Microsoft products to actually run on top of Power Platform. A great example of this is how the earlier SharePoint based Project Online is not only merging with the PSA product in Dynamics 365 portfolio but also moving on top of CDS, with process automation powered by Flow and tailored user interfaces offered via PowerApps. The brand new Microsoft Forms Pro product is also an interesting example of how the modern Office 365 style user experience of the earlier basic Forms product has now been expanded with the Pro layer that connects the form and survey data with a robust data back-end in CDS. By using Power Platform, Microsoft can take the bundled Forms app in Office 365 and offer it as a premium solution in the enterprise feedback management market, thus growing the potential revenue stream beyond the common Office subscriptions.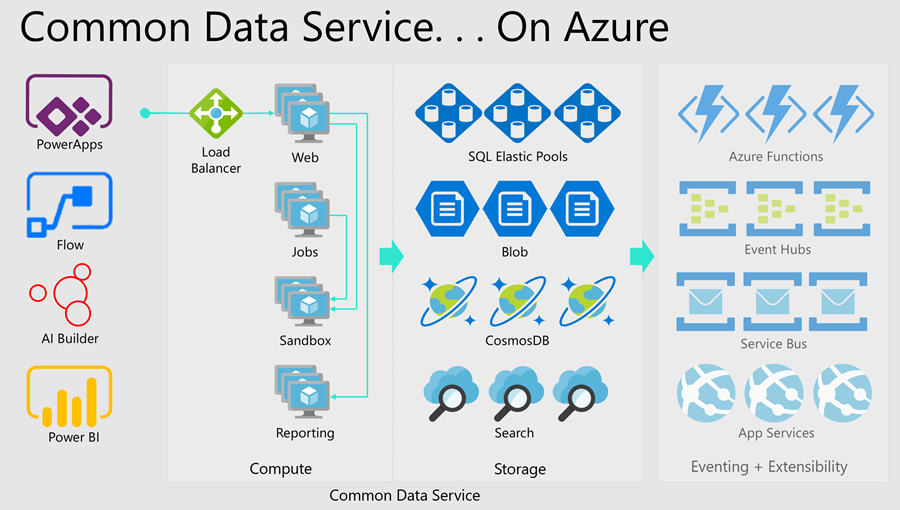 To really understand what's going on here, I recommend you to pay close attention to what the principal platform architect Matt Barbour had to say in his recent MBAS session on the future of the platform:
"So overall, the concept of the platform in general has today been relegated to support role around Dynamics. Our marketing has been slowly changing the concepts of the SKUs, the PowerApps licensing, and bringing platform more to the foreground. You will continue to see us do that. We will bring the Power Platform more out as the key component for your application development story.


It is the right thing for us as an organization business wise – and the right thing for our partners. Rather than getting monopolized down one product group's path, we're now allowed to take input from many product groups, which in turn benefit many different groups. You'll see us investing in cross-platform technologies a lot more. This is something we've been restricted from in the past due to capacity and time, now we have the latitude to begin investing in things like .NET Core and cross platform technology stacks. Authentication, identity wise, you will see us build more tight relationships with things like Azure AD.


Our packaging and solution story and infrastructure will transform radically over the next… let's just say in the future. We today support the ability to package and manage Canvas apps and Flows. We will have the ability to solutionize AI Builder and all of the projects and models that go with that. We continue to expand on that. Power BI is on the radar. Dataflows is on the radar. The ability to do integration services and solutionization of those services."

Microsoft PowerApps: Building and extending applications – BRK3000 by Matt Barbour
Oh wow. Hearing about all these investments that are being made on developing the platform further should by now remove all doubts you might have had about it being "just a Dynamics thing". With this type of mechanisms for cross-platform delivery of apps, machine learning models, integrations, why wouldn't Microsoft target to use Power Platform for launching pretty much any future application? Now that would be some serious growth.
3. Citizen developers
Time to step outside of the Microsoft world and look at Power Platform growth opportunities among customers and partners. The rise of the citizen developers could be described as the "standalone" product pitch that we've consistently heard for PowerApps, Flow and Power BI (as in citizen data scientist) for a while now. This has been a great strategy for initially gaining awareness about these brand new tools among those "makers" how want to actually do hands-on work with them to solve problems in their day-to-day jobs. Witness the birth of the #PowerAddicts movement and you can see how the investment in building up a vibrant user community is fueling the product growth by offering guidance, examples and inspiration for citizen developers all over the world.

The target of empowering the next 10 million developers to emerge from the crowd of information worker citizens is an ambitious number, as it of course should be for something as high profile as Power Platform. You won't get very far with just relying on the inspiration of enlightened PowerApps fans in the organization. You need to get the wider business units to understand that there can be an "app for that" to fill those gaps in digital processes where a custom development project couldn't be funded and commercial applications aren't the right fit. What's equally important is getting the corporate IT on board with the grassroots app creation wave and to encourage the subject matter experts on the business side to take Power Platform and run with it – knowing that it's a secure environment that they can manage better than the alternatives (clutter of different clouds or shadow IT). This is why the messaging from Microsoft has recently turned heavily towards supporting the next stage, which is Power Platform adoption across the whole organization. Concepts like the PowerApps Center of Excellence Starter Kit are a great example of this. To keep the app and user numbers growing, this is where their investments also must grow next.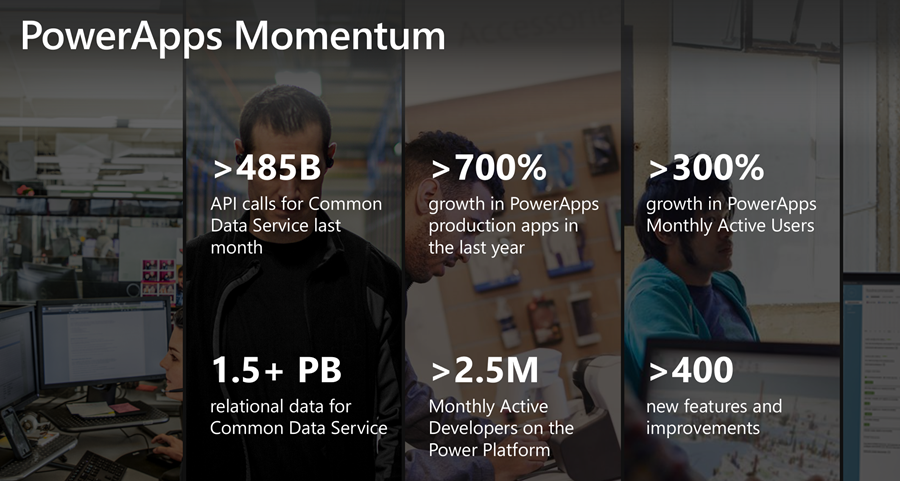 Getting started in app making is something Microsoft surely wants to keep within the reach of practically any Office 365 user, because that's how citizen developers get their wings. More and more capabilities will be developed to support the IT department as well as the pro developers to work with managing and extending the various PowerApps that end up becoming business critical. At some point of this process, though, there needs to be additional sets of licenses sold to the customer organization – to justify the business decision behind Microsoft's investments. Much of the platform development described by Matt Barbour will be on the CDS side, which means it's not a playing field covered by the seeded PowerApps for Office 365 licenses. To go beyond simple intranet form replacements and SharePoint list based non-relational data management, to truly use Power Platform to connect your business data across systems and get benefits from AI, the customers will need to acquire further subscriptions for their users.
Now, unlike with Dynamics 365 where it's often been a head-to-head compete situation in CRM or ERP system implementation or migration though which MS had to earn their license dollars, the market in these low-code/no-code tools is a whole new playing field. The Power Platform could easily be sold to customers who run Salesforce or SAP, because you're not forced to buy the CRM or ERP apps built by Microsoft to license it. This broadens the total addressable market into something that a platform hidden behind the Dynamics brand never could have achieved. Of course at the same time, it also creates a nice Trojan horse for MS to infiltrate organizations that aren't yet running Dynamics 365 and don't want to buy it right now, but over the course of time might find themselves in a position where trying it out as an option becomes a very effortless exercise. What a nice win-win strategy, or should I say growth-growth in the spirit of this blog post.
4. Professional developers
The final piece in the Power Platform growth puzzle is the audience that may have originally seemed to be a non-target for such no-code/low-code offering. After all, isn't Azure the place where Microsoft would naturally want to keep all their custom solution development partners and professionals? Yes, that will of course be the primary box through which all the hardcore app development, infrastructure, data, AI and other services and information will be catered to this audience. However, this crowd also needs to be exposed to Power Platform and its potential impact to the world around them, to really make the platform strategy work for MS.
There's the promise of "no-cliffs" application development experience built into the Power Platform story, describing how you can start from a simple Office 365 app built by any information worker and gradually move up the complexity ladders, via PowerApps through Dynamics 365 and all the way to custom application development land of Azure. While these changes in app types can never be seamless, in the sense that you'd just pour some more complexity bits on top of the original app, there's still some real power in being able to continue working within the same cloud ecosystem as the needs of the app users grow. To support this on the Azure end, we've heard the Power Platform product team present at MS Build how they're investing in pro dev features to build a platform for every developer. PowerApps is being tightly integrated with Azure DevOps to offer the kind of cloud ALM model that wasn't really feasible for most teams in the XRM era, but which could in the future become the new baseline requirement.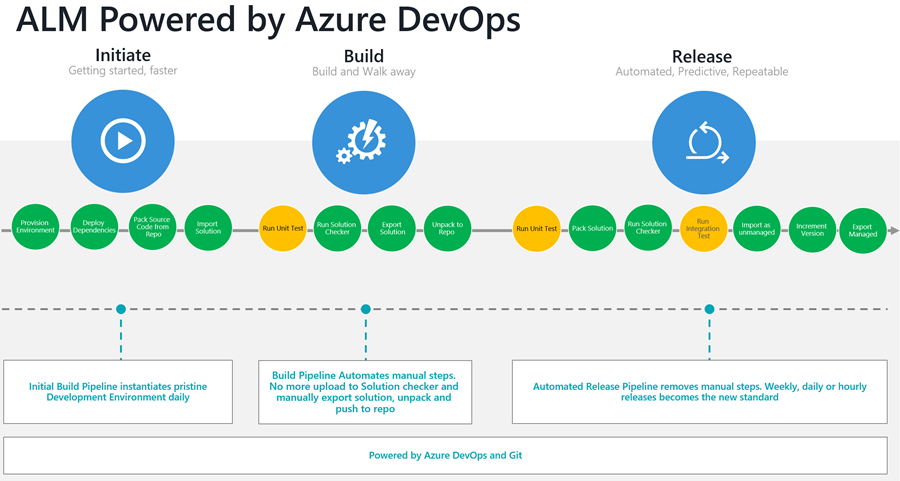 When there is no on-prem to worry about, like with the cloud native Power Platform, imposing such requirements on app development and delivery is becoming considerably easier for MS. Ultimately that's exactly what MS will need to achieve, if they are to maintain a platform that can cater to both ends of the developer spectrum (pro vs. citizen). The pros can't be allowed to break anything with their code that the citizens are configuring via their GUI tools. The GUI tools can't be a requirement for any work that the pros want to automate in their DevOps pipelines. It's not an easy equation to solve, but if MS can find the right balance in this, then their pro developer partners are unleashed to inject their IPR into basically anything that's built on the Power Platform. This ecosystem growth is going to be a critical factor for determining the long term success, since falling for the same trap as Windows Phone did with the failure to grow a viable ecosystem around it is surely the stuff that Redmond nightmares are still made of.
Extending customer specific PowerApps with custom code add-ons and services is one avenue for building new business on top of the platform, which resembles the existing business models for Dynamics 365 partners. What would be a true validation of the platform strategy's success is to see existing software vendors and cloud service providers to swallow the Power Pill and rearchitect their own products to run on top of the Power Platform. This would turn the platform into a part of the product being sold by a third party, thus creating a whole new kind of revenue stream that's not been very common at all in the Business Applications side of the house. Of course the licensing implications here on the per-user based commerce platform are slightly more complex than on the resource consumption based Azure, but if Microsoft customers will have already chosen to license PowerApps for their users then there's in theory no per-app cost involved here in starting to use new third party products. A whole new category of applications could emerge from this kind of digital product development process that would potentially require zero lines of custom code to create an app. IPR protection, payments and other factors of course would need solutions as well, but with the new revenue share model that Microsoft has introduced for AppSource partners, there's now a tangible shared interest in seeing this kind of market growth take place.
Closing thoughts
Writing this article has been primarily a way for myself to bring structure into the many thoughts that have being flying through my head when trying to answer the question "what will the Power Platform business look like?" It's always difficult to make predictions, especially about the future, so I will definitely need to revisit the conclusions I've drawn here once we reach a suitable moment in that future. As a summary of the key themes that have bubbled up during my analysis work, the four possible growth directions could be listed as follows:
Dynamics 365 product portfolio will grow both in width and depth thanks to the matured platform tools and easier connectivity with advanced Azure services.
More MS offerings will make use of the Power Platform components internally as product teams look for ways to quickly integrate with the mainstream cloud services.
Citizen developer apps will transform how organizations internally digitalize their own processes, with less reliance on externally developed custom applications and monolithic software suites.
Professional developers will see an opportunity for solution architecture that offloads common app functionality from custom Azure development onto the low-code platform managed by MS.
I'm pretty sure I'm not the only one who's been wondering about the direction where Power Platform is taking the Microsoft ecosystem. I'd love to hear your thoughts on what you see happening in the market, so please do leave a comment below or get in touch to share ideas.
Author the Author:
Jukka Niiranen is the co-founder of Forward Forever, a technology agency focused on business solutions leveraging Microsoft Power Platform. He has been awarded Microsoft Most Valuable Professional (MVP) since 2013 for his community contributions around Dynamics 365 and CRM. Jukka works as a Power Platform Advisor, helping organizations achieve business success with low-code applications and improve their processes via smarter use of customer data. Read more at https://forwardforever.com/jukka-niiranen/
Reference:
Niiranen, J. (2019). 4 Directions for Power Platform Business Growth. Available at: https://jukkaniiranen.com/2019/07/4-directions-for-power-platform-business-growth/ [Accessed: 6th April 2020].
Find more great Power Platform content here.