When your report has a bunch of slicers and charts that can also add filters to the page resetting back to no filters can be painful. So we need a quick way to reset slicers. This post walks through the steps of creating a bookmark and the using that bookmark to reset the page by clicking a button.
Slicer Series
This series will cover different topics regarding slicers.
Resetting Slicers with a Bookmark Button
Cascading Slicers
Hierarchy Slicer
Syncing Slicers
Introduction
This post will walk through the stages to add a reset button to a report. It comes in 2 parts, firstly create a bookmark that removes filters and then to add button that as its action applies the bookmark.
YouTube Version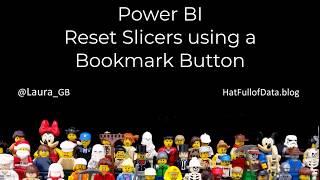 Create Bookmark
Bookmarks include the current status of slicers on the current page. So the first job is to clear all the slicers and make sure to selections on charts is filtering the data.
From the View ribbon, select Bookmarks
Click on the Add button and a bookmark will appear.
Double click on the bookmark to rename it
The bookmark can be tested by selecting some options on the slicers and then clicking on the bookmark name and the slicer options should be cleared.
You can now close the Bookmarks pane.
Adding Reset Button
A bookmark action can be added to a Button, Shape or Image. Select one from the Insert ribbon tab. In the format of the button / shape / image click the Action to be on, change the Type to be Bookmark anf the Bookmark to be the bookmark you created.
When viewing the report in Power BI desktop you need to hold the CTRL key when you click the button. In the Power BI Service, i.e. where your report is published you will not need the CTRL key.

You can add a message into the the Tooltip to assist your report consumers.
Updating Bookmarks
When you add new slicers or reformat your slicers it is always a good idea to update your bookmarks. Open the bookmarks pane from the View ribbon tab. Click on the … next to the bookmark name and select Update.
Conclusion
It is important that your report is easy to use. Adding reset buttons when you use slicers is a good step towards that.
Reference:
Brown-Graham, L. (2020). Power BI – Reset Slicers with a Bookmark Button. Available at: https://hatfullofdata.blog/power-bi-resetting-slicers-with-a-bookmark-button/ [Accessed: 8th April 2020].
Find more great Power Platform content here.